Concept and structure of the study program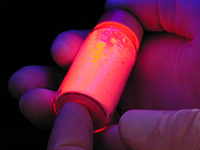 Fluorescent polymer for organic light-emitting diodes
Special polymers for organic light-emitting diodes (OLEDs) are developed to meet certain optical and electrical criteria.
An important building block in the teaching concept within the field of macromolecular research activities at the University of Bayreuth is the Elite Study Program - Macromolecular Science. Students who excel on both a personal as well as professional level are encouraged by the elite study program in the research fields of chemistry, biochemistry, polymer and colloid chemistry, physics, biophysics, biology and material sciences. Additional top-class courses held in English as well as the offered day care service open up doors to the students to start a career as an internationally oriented junior scientist in the research field at the highest level or to train for a management position at a national or international company.
The elite study program - Macromolecular Science is modularly designed and includes (i) the starter module Modern Research Topics in Macromolecular Science, (ii) two Advanced Modules with special topics from the field of macromolecular research, consisting of lectures, seminars, workshops and experiments, (iii) an Interdisciplinary Practical Course, (iv) the module From Research to Publication, (v) the module Management Training and (vi) a research stay abroad in cooperation with selected internationally renowned universities.
Thanks to the modular concept, the good mentor/student ratio and the flexible scheduling which is individually tailored to the students, the study program can be completed at the same time as a masterÂ's/PhD program without prolonging the overall study time. All modules were conceived and prepared especially for the elite study program and are continually being improved.
The students will further benefit from a close collaboration with and the excellent infrastructure of the following institutes and research programs located at the University of Bayreuth:


For further information, please contact:
Name
Department

||

Institute
E-mail
Prof. Dr. Hans-Werner Schmidt
Macromolecular Chemistry I
Prof. Dr. Jürgen Köhler
Experimental Physics IV
Prof. Dr. Georg Papastavrou
Physical Chemistry / Polymer Physics (ENB)
Prof. Dr. Mukundan Thelakkat
Applied Functional Polymers (ENB)